Carmen Sandiego, la tercera temporada desde el 1 de octubre por Netflix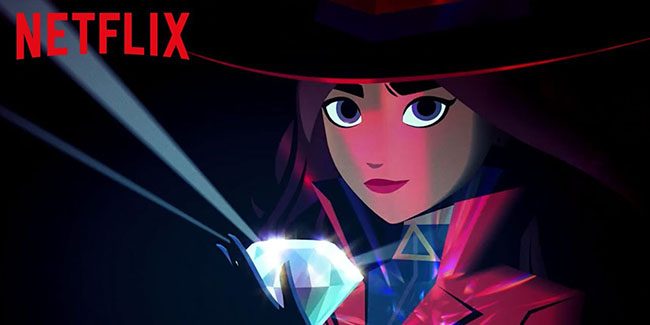 Netflix anunció que la tercera temporada de Carmen Sandiego, la serie animada extraída del célebre dibujo animado de los años '90: ¿Dónde está Carmen Sandiego? o ¿Dónde en el mundo está Carmen Sandiego? estará disponible a partir del próximo 1 de octubre. 
New capers, new travels, and even more #CarmenSandiego. Season 3 premieres October 1 on @netflix! pic.twitter.com/5o9uPDpv0y

— Carmen Sandiego (@CarmenSandiego) September 3, 2020
Como sabemos, Carmen Sandiego es una ladrona experta, jefe de la organización criminal V.I.L.E. y enemiga de la agencia de investigación ACME, para la cual trabajó cuando era joven. 
La tercera temporada de Carmen San Diego llega en octubre a la pantalla de Netflix
Gina Rodríguez, ganadora del Golden Globe por "Jane The Virgin", es quien da su voz a Carmen Sandiego; Finn Wolfhard ("Stranger Things", "It") es Player, amigo y cómplice de la protagonista; Abby Trott ("Demon Slayer: Kimetsu No Yaiba", "NieR: Automata") es Ivy, Sharon Muthu ("Agents of Mayhem", "Modern Family") es la agente Zari y Liam O'Brien ("Critical Role", "Final Fantasy") es el profesor Maelstrom, entre otros.
La guionista es Mary Chan ("Avatar: The Last Airbender", "Spirit Riding Free: Riding Academy").
Los directores son: Jos Humphrey ("Kid vs. Kat", "Transformers: Rescue Bots"), Kenny Park ("Ice Age: Collision Course", "Sausage Party") y Mike West ("Escape from Planet Earth", "My Little Ponny: Friendship is Magic").
La producción está a cargo de Houghton Mifflin Harcourt, mientras que Duane Capizzi (creador de innumerables shows animados, entre los cuales encontramos "The Batman") es el showrunner y co-productor ejecutivo junto a C.J. Kettler ("The Tick"). 
La responsabilidad de la animación es del estudio DHX Media, mientras que en la realización gráfica encontramos a Chromosphere y a Kevin Dart, conocido por su trabajo en "Mr. Peabody & Sherman".
Comentarios
Comentarios