Sabrina: la primera foto oficial de la serie Netflix es "romántica"
Por el momento no se ve la atmósfera "dark" del reboot se Sabrina, vida de bruja ("The Chilling Adventures of Sabrina"), una serie con sello Netflix.
Mientras el show está en fase de desarrollo en Vancouver, la primera foto oficial difundida en las redes sociales por el guionista Roberto Aguirre-Sacasa nos permite dar un primer vistazo al look de Sabrina Spellman (Kiernan Shipka) que pasea de la mano con su novio Harvey Kinkle (Ross Lynch).
Well, it's out there. A 1st look at Harvey and Sabrina from the "Chilling Adventures of #Sabrina." ADORBS, right? pic.twitter.com/9n8cznpv2c

— RobertoAguirreSacasa (@WriterRAS) 4 de abril de 2018
La serie, que ya tiene la confirmación de dos temporadas de 10 episodios cada una, cuenta en su elenco con Michelle Gomez ("Green Wing", "Doctor Who") como Madam Satan, Chance Perdomo ("Midsomer Murders", "Hetty Feather"), Lucy Davis ("Wonder Woman", "The Office") como Hilda Spellman y Miranda Otto ("Lord of the Rings", "War of the Worlds") como Zelda Spellman, Jaz Sinclair ("Paper Towns", "Easy"), Richard Coyle ("Prince of Persia", "Coupling") y Bronson Pinchot ("Double Play", "The Strike") que interpreta al Presidente de la escuela donde estudia la joven bruja.
La serie Netflix está inspirada en el cómic "The Chilling Adventures of Sabrina", proponiendo una nueva versión de los orígenes y de las aventuras de Sabrina, lidiando con su doble naturaleza de ser humano y de bruja y con la dificultad que afrontan todos los adolescentes en su vida cotidiana.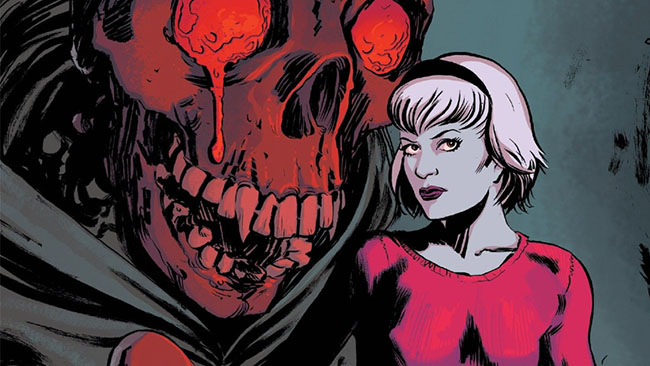 La atmósfera será más "dark" con respecto a la versión de la historia adaptada a la pantalla chica en los años '90 en Sabrina, vida de bruja.
La nueva adaptación será realizada por Roberto Aguirre-Sacasa, el creador y showrunner de "Riverdale", mientras Lee Toland Kieger ("The Vicious Kind", "The Age of Adeline") dirigirá el primer episodio. Los dos también serán productores ejecutivos junto con Greg Berlanti ("The Flash", "Green Lantern"), la partner Sarah Schechter ("The Flash", "The Life Aquatic with Steve Zissou", de la cual hablamos en nuestro podcast NaC 2×08) y Jon Goldwater, de Archie Comics.
Por el momento no sabemos a partir de cuándo este show estará disponible en Netflix.
Comentarios
Comentarios