Westworld, Aaron Paul en el tráiler de la temporada 3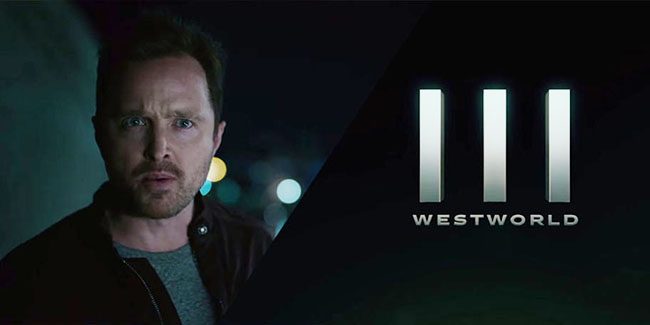 Publicado el

20/05/2019

http://iosmac.es
HBO aprovechó el final de su serie estrella Juego de Tronos para dar a conocer la temporada 3 de Westworld, que llegará al público en el 2020.
El teaser nos muestra un contexto inédito y gira alrededor del personaje de Aaron Paul, que tendrá un rol regular en los nuevos episodios.
Su personaje vive en una sociedad en donde no se siente identificado y se lo ve recorrer la ciudad junto a un robot en un vehículo futurístico.
"Decían que habrían creado un mundo mejor…", se escucha en off. "Pero era una mentira. Creo que las irregularidades son las únicas cosas a las cuales puedo aferrarme." Y a este punto lo vemos robando junto a algunos cómplices y después encontrándose con Dolores en un túnel, herida y tambaleándose.
La música que acompaña el teaser tráiler es "Brain Damage", de Pink Floyd.
Recordemos que entre los nuevos rostros de la temporada 3 se encuentran Vicent Cassel ("Default", "Black Tide") y Lena Waithe ("Master of None", "Ready Player One").
Forman parte del elenco de la segunda temporada: Dolores, interpretada por Evan Rachel Wood ("Whatever Works", "Across the Universe"); Teddy Flood, interpretado por James Marsden ("X-Men", "Enchanted"); Maeve Millay, Thandie Newton ("2012", "Mission: Impossible II"); al Hombre en Negro, Ed Harris ("The Truman Show", "Apollo 13"); Ashley Stubbs, Luke Hemsworth ("Thor", "Blue Heelers"); Bernard Lowe, Jeffrey Wright ("The Hunger Games: Mockingjay" -Parte 1-, "Shaft"); Angela, Talulah Riley ("The Boat That Rocked", "Pride & Prejudice"); Charlotte Hale, Tessa Thompson ("Thor", "Creed") y a Héctor Escaton, Rodrigo Santoro ("300", "Love Actually").
La temporada 3 de Westworld llegará el próximo año
En los últimos meses Talulah Riley fue confirmada como parte integrante regular del elenco y lo mismo para Louis Herthum.
Completan el cast: Katja Herbers ("The Leftovers", "Weg van Jou") como Grace, Neil Jackson ("Push", "Alexander") como Nicholas, Jonathan Tucker ("Hostage", "Skin") como el Mayor Craddock, Gustaf Skarsgård (Kon-Tiki", "Vikings"), Fares Fares ("Zero Dirk Thirty", "Child 44"), Betty Gabriel ("Good Girls Revolt", "The Purge: Election Tear") e Hiroyuki Sanada ("Tasogare Seibei", "The Wolverine"), entre otros.
Quien quiera refrescar la memoria acerca de la Temporada 1 de Westworld puede escuchar el podcast NaC 1×15 donde comentamos la serie.
Comentarios
Comentarios